Note: This post contains affiliate links, which means that I may earn a small commission on products purchased through some of the links contained here.
Looking for Handmade Horse Gifts this Christmas?
I want to encourage you to look to small businesses as much as possible for your Christmas shopping needs this year... More specifically, buy handmade gifts when you can! There are many benefits to buying handmade, but I'll leave those for another post. Instead, this is all about giving you some great ideas for handmade horse gifts to make your Christmas shopping a bit easier this season! (Plus, I really love window shopping and sharing my great finds with you!)
---

1.  Custom Horse Hair Bracelet from SC Equine

What better gift than a horse hair keepsake, which can even be custom made using horse hair that you send? This particular bracelet is priced at $75 to $105, depending on the hardware finish that you choose (You can choose from coppery bronze, golden bronze, white bronze, or sterling silver). I'm happy to make your bracelet with horse hair from my stock or horse hair that you send in, and can use any color(s) of horse hair that you wish... Your creativity is the only limit on the ways to customize this piece.
Click here to learn more or order, and be sure to enter HANDMADECHRISTMAS in the coupon section during checkout to save 15% on anything in my online store until December 25, 2016.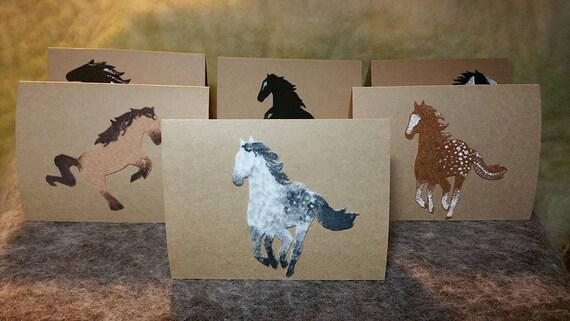 These super cute cards are handmade by Lisa and her daughter. 
Each card is handcrafted, the horse is made of soft felt and is hand drawn, hand cut and then hand painted with details on each horse. Attached to a kraft paper card of 5 X 6.5 inches. Comes with a matching envelope.
There are several different horse designs to choose from, and you can also have the horse painted to match your own horse (Or the horse of your gift recipient).
Stock designs are $5 per card; Cards with custom painted horses are $7.50 per card.
Visit Lisa's Etsy shop here to order, and be sure to enter HORSELOVE in the coupon section during checkout, to save 10% off of anything in her store. You'll want to take a peek at her hand felted horse figurines while you're there!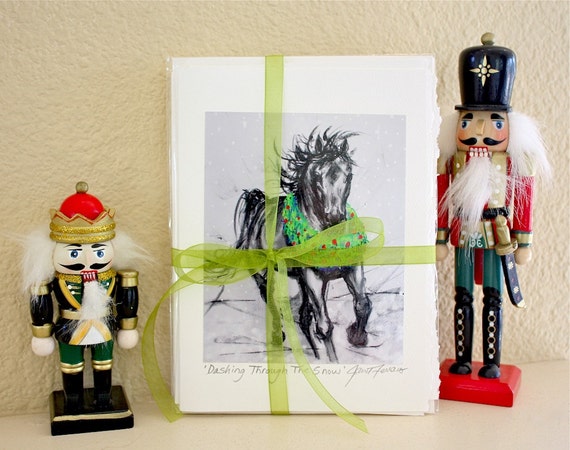 3. Handmade Christmas Cards from Ferraro Fine Art
What about sending out handmade Christmas cards to your friends and family this year, rather than the usual, box-store cards? I just love these handmade Christmas cards, which are made by Janet Ferraro of Ferraro Fine Art. She's got three different designs to choose from (this one's my personal favorite!), and you can order choose which cards you want her to include in your set (You get a set of 6 cards with envelopes for $25).
These handmade cards feature a beautiful luster metallic finish print of her fine art painting on premium textured white card stock with a matching envelope. The painting image has a lovely iridescent finish. 

Each card is titled by hand and signed by the artist. Perfect to give as a gift, mail to friends and family or to put in a frame.

The greeting card measures 5 X 7 inches and is blank inside for you to write your own specialized greeting or decorate as you wish. Each card is packaged in a clear cellophane protective sleeve and then the six cards are tied with a lovely ribbon.
You can find the listing for these beautiful cards here. Be sure to check out the other lovely artwork that's in her shop, as well!
I'm in serious love with this hand-painted, 14-ounce lucky horseshoe mug from Millie's Handmade Shop. I mean, seriously, horses and coffee are two of my all-time favorite things, and this super cute mug combines both of those loves just perfectly... Even better, pair it with a bag of gourmet coffee, or fancy tea (Hint: Did you know that you can get luxurious, gourmet coffees and teas for super cheap from Marshall's or Ross? It's true! They even have a nice variety of organic flavors to choose from!). Ok, all this coffee talk has my mouth watering, so I'm off to make myself some coffee... I'm just missing this shnazzy mug to sip it from!
Oh yeah, before I go, this mug is only $11, and you can get it here.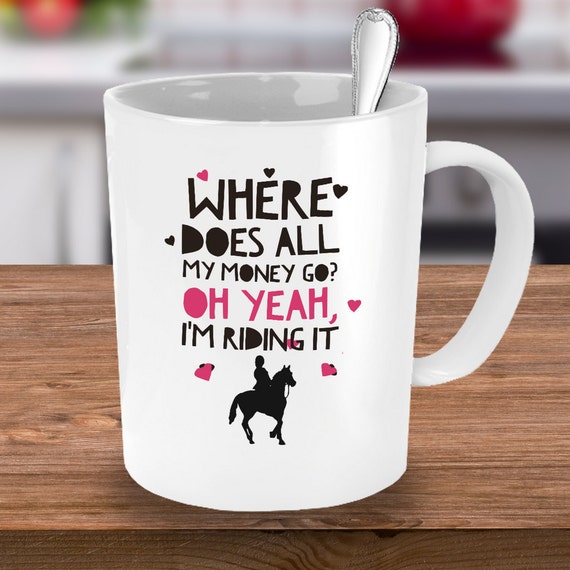 5. Funny Horse Coffee Mug from Custom Cre8tive
This ceramic coffee mug is perfect for people who know how expensive a horse passion can be! Great way to get a laugh at work around the office, or just at home with your family and friends. Such a great novelty gift that your friends, family or co-workers will be proud to use. They'll know you put in the extra effort to find something WAY better than a typical cheap ceramic printed mug!
This "Where Does All My Money Go? Oh Yeah, I'm Riding It" 11oz ceramic novelty gift mug is dishwasher and microwave safe so you don't need to be concerned about the cup fading! Printed on both sides and made in the USA. It also features a large, easy-grip handle. This mug is only $14.95, and you can order yours here.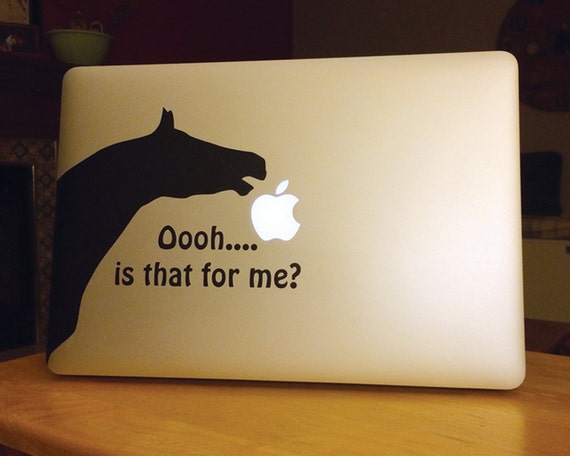 6. Horsey Decal for Apple Laptops from The Latest Buzz
So I originally stumbled across this particular laptop decal, and it caught my eye, just because it's super awesome, and then I explored the rest of their Etsy shop, and they have SO many super cute decals for your laptop, your cell phone, ipad, as well as walls... And most of them are horsey-themed (I spotted a couple of dogs ones that I completely fell in love with, as well!). One of these cute decals would make a great stocking stuffer for a techy horse-lover, and is sure to bring a smile to their face! You can choose to purchase it in black or white, and you can also select your laptop size to make sure you're getting a decal that's the correct proportion for your computer.
This decal is only $14, and you can order yours here.
7. Custom Horseshoe Polymer Clay Ornament from Artistry by Ali
I am so in love with these adorable horseshoe ornaments, decorated with polymer clay horses and other cute accessories! You get to choose the hair color of your characters and horse color. Accessories such as lassos, carrots, apples and flowers are included. Why not dress it up for Christmas by including candy canes and Christmas balls instead? You can finish it off with a plaque with your family name or ranch name. These handmade gems are only $20.00 plus shipping. You can find them here.
If you have your mind set on finding a piece of jewelry for that special horse lover in your life, check out this simple but stunning sterling silver necklace, which features a hammered horseshoe (approximately .75" long), attached to a petite cable chain, which is adjustable between 17" and 18". It's only $29, and you can order yours here.
Pardon me, I'm drooling again! What horse lover doesn't like horseshoe art? I don't even put shoes on my horses (they are all barefoot), but I am a total sucker for horseshoe art. These intertwined horseshoe hearts (made from size 0 & 0 horse shoes) would make such a great gift, especially for a love interest! The pair measures about 8" x 5", depending on how you arrange them. Priced at only $32, you can order here.
We've all got that one friend who immediately comes to mind, every time anyone mentions wine (No, I'm not gonna tell you who comes to my mind!). Wouldn't this make the perfect Christmas gift for that wine connoisseur? It's ok if that connoisseur happens to be you... I won't tell if you decide to just get this pretty glass for yourself, and wrap it up with a tag that says it's "From Santa"... There will probably be a few gifts under my tree like that this year! This gorgeous 19 ounce wine glass is permanently etched and dishwasher safe. It's only $15.99, and you can get it here.
Wrap this tote up as a gift by itself, or stuff it full of additional treasures and use it as the best gift bag ever! Made from heavy duty 10 oz. cotton twill tote bag material, it measures a whopping 16.5"h x 15.5"w x 7"d, with 21" straps, and can easily hold upwards of 35 pounds (that's if you care to carry that much weight around with you!). It's also washing machine and dryer safe (Yay!). 
The icing on the cake is that 10% of every product purchased on ToteTails.com goes directly to benefit the SPCA, Humane Society and other animal welfare organizations.
These super cute totes are priced at only $24.95, and personalization is included with each purchase (You'd have to message them to find out just what that includes). You can find them here.
---
If you or someone you know makes something that should be on this list, send me an email (stephanie@scequine.com) with up to three product photos (of a single product), a description, price, link to your online store where they can purchase, and a coupon code with expiration date (optional).
It's free to be included, so don't miss this opportunity to get exposure to thousands of new shoppers this Christmas season!